How many children do you have and what are their age(s)?
One little princess, Karina Juliette, 18 months old
How long have you lived in Hudson County? What made you decide to live here?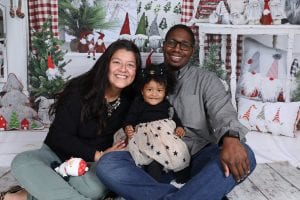 I grew up in Bayonne. I moved to Atlanta for college and returned to Bayonne after graduation because all of my family is here.
What's your favorite family activity in Hudson County?
My family and I enjoy going for strolls around Broadway, taking our little lady to Hudson County Park playgrounds and taking her for Picnics to Liberty State Park when the weather is nice.
Where's your favorite place to eat and/or shop?
In Bayonne I love the Chicken Cutlet Sandwich from Giovanni's, Baked Ziti from San Vitos and Chicken Flautas from Aguila Dorada
In Jersey City
I love the Holypeno Burger from Diesel & Duke and Jerk Chicken from Jerkin Chicken, and I love shopping for my daughter at Vicki's Joyful Creations in Bayonne.
What's one thing people would be surprised to know about you?
They would probably be surprised that I've been in practice almost 8 years and that I work on babies!
What are you doing to stay sane during Covid for yourself?
Besides being with my little sidekick, I am working on my practice, getting back to exercising consistently and my DIY nail hobby.
Any tips or recommendations for parents to entertain/educate their children during this time?
Set up play dates to local spots (Little Boho bookshop, LSC, Little Gym JC are great gems) or strolls (weather permitting). Socially distanced fun is possible! My daughter loves seeing her little buddies!
Anyone special you'd like to thank for helping you through parenthood?
My partner, my parents and my in-laws. They are my tribe and I am very grateful l to have them!
Are you involved in a business venture, a local organization, a creative endeavor, or
in the corporate world? Please share!
I am a Family & Pediatric Chiropractor in Bayonne! I have been practicing in Hudson County & NYC for years. I am now in my own office offering boutique one on one wellness for my community! I love educating people on how Chiropractic can help optimize their health, holistically. (Check her out at Holistic Wellness Family & Pediatric Chiropractic) 
How has this community been instrumental in getting you to where you are now?
I grew up in Hudson County and have met incredible mentors throughout the years. Being a new grad and 1st generation Chiropractor, I was a fish out of water coming back home. But I have gained so much learning the business from local mentors & in experience. I am hoping to be the same for new mom/dad entrepreneurs!