How many children do you have and what are their age(s)?
1 son, Scottie, 17 months old.
How long have you lived in Hudson County? What made you decide to live here?
I was born and raised Jersey City (Greenville section) – went to grammar school in Jersey City, commuted to high school in Bayonne. Went away for college and when I came home, lived at my parents house in Jersey City until I could afford to move out. Good thing Jersey City was the place to be! In my mid to late 20's, moved to Hoboken, eventually met my husband there and stayed for 10 years! Now we live in Bayonne in a townhouse with our son. Talk about a tour of Hudson County!
What's your favorite family activity in Hudson County?
Mutz Fest in Hoboken! Followed by Bark in the Park, the Hoboken House Tour and the Hoboken Arts & Music Festival.
Where's your favorite place to eat and/or shop?
I could write a book on this question…
In Jersey City, Laico's and 15 Fox Place.
In Hoboken, Onieals, Otto Strada and Seven Valleys.
In Bayonne, Pizza Masters and Teddy's Place.
I love shopping on Washington Street in Hoboken, specifically Mela Fleur and Hoboken Clique! Awesome places to get gifts!
What's one thing people would be surprised to know about you?
I have dual citizenship – USA and Italy.
What are y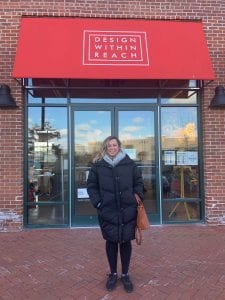 ou doing to stay sane during Covid for yourself?
Walking – my son, our rescue dog and myself are going on long walks in January like it's a June day. When you are cooped up inside all the time, with little social activity outside of your family you see everyday, going outside and taking advantage of the playgrounds and dog parks are a real treat and the frost doesn't bother you like it used to! And, if I'm being honest, giving myself some "me time" to watch "90 day fiance" every Sunday night is an instant mood booster.
Any tips or recommendations for parents to entertain/educate their children during this time?
My son is still so young, so I don't have the experience and struggles that many other parents with slightly older children are facing right now, but when we hit a wall, we bust out our arts & crafts box filled with finger paint, markers, crayons for some artistic projects.
Anyone special you'd like to thank for helping you through parenthood?
My mom and dad! When I was experiencing a layoff during Covid-19, my career and daily life as I knew it, (and as a new parent), was turned upside down. My Mom helped me kick start a new career venture, my small business, LemonadeStrand – working on the initial trial and error, and then perfecting the business to our liking, and helping me daily with childcare, along with my Dad. It was all a balancing act and I could not have done it without them.
Are you involved in a business venture, a local organization, a creative endeavor, or in the corporate world? Please share!
My small business LemonadeStrand is on Instagram, Facebook and sold on Etsy! You can also find me a couple times a month around Hoboken selling my LemonadeStrand lanyards at pop-up shops. LemonadeStrand specializes in adult + kids personalized and custom face mask lanyards. We also make care packages for any occasion which feature personalized and custom face mask lanyards, reusable face mask, hand sanitizer, note card and gift wrap. Lastly, we always offer free ship or free delivery! https://www.etsy.com/shop/LemonadeStrand
As for the corporate world, after almost one year out of it, I am back in – I just accepted a position in marketing at Design within Reach! Excited to take on this new adventure!
How has this community been instrumental in getting you to where you are now?
My pop-up shops are always in Hoboken and the small businesses and community there are the most generous, kind-hearted, all around amazing people that just want to help you succeed and be your absolute best. It is very inspiring and I owe it all to them in aiding me to get the word out about my business!