How many children do you have and what are their age(s)?
Thank you! This is so fun;)
I have one daughter, Everly Joan who is 19 months today! (Monday)
How long have you lived in Your Town/Hudson County?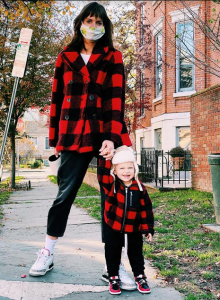 As newlyweds we lived in Hoboken for a year and a half, then came up to Jersey City Heights after that and we have been here for almost 6 years. We love it!
What made you decide to live here? What's your favorite family activity in Hudson County?
A spot opened up in our friends building which was an old silk factory, and we couldn't pass up the 16 ft ceilings and literally the BEST neighbors I've had in all of my apartment life-( i lived in the city for 10 years and in a LOT of apartments)
My favorite family activity is bike riding with our LO. We race down the hill sometimes, take the ferry in the city and go exploring, or pop a squat and have a picnic by the water if the weather is nice- and of course stop by a playground.
Where's your favorite place to eat and/or shop in your town?
Fave place would have to be CORTO right across the street from us. It is a real neighborhood spot with INCREDIBLE pastas. We love grabbing a bottle of wine from our neighborhood wine store RIVERVIEW wines and heading over. They have a fully heated tent out back for the winter as well. We had date night there last night actually!
For shopping- if I'm alone I do vintage- Revival Boutique or Another Man's Treasure.
If i have the babes it's Newport Mall- Zara, and main stores- although my favorite store there Flying Tiger Copenhagen just closed:(
What's one thing people would be surprised to know about you?
I opened the VMA's last year dancing for Taylor Swift. It was my first job post babes- 3 months PP actually, and i had to dance on pointe. Something about being a mom makes you give zero f$%s and I remember I turned in a head shot of me breastfeeding to the audition! Lol- thank god casting loved it!
I almost had to quit because Everly was refusing to take a bottle, but thankful she found her groove, so i could do mine.
What are you doing to stay sane during Covid for yourself?
The first 6 months we had a really strong quaranteam of neighbors, obviously that morphed a bit with people going back to work etc. but I try to plan
activities so that one day doesn't run into the other. Your page helps that. I love finding out what's going on in our area.
Any tips or recommendations for parents to entertain/educate their children during this time?
First of all- all my heart and whisky goes out to those who have multiple children who they have to help with virtual school and or WFH. Y'all are superhuman. So much is demanded of the parents these days-
I think taking the pressure off yourself is step one. Also maybe education looks a little different in these "unprecedented times" – that's also a drinking game for every time we hear that! haha. But in all fairness and grace, parents could think of practical ways we can educate our children- via cooking or scavenger hunts- ways that bring them to our level and promote bonding.
Also my mom has Facebook portal and Everly loves hearing her tell stories with the animation and visual cues! This makes face timing with relatives fun! The kickback is that every time I call my mom, my daughter won't stop yelling "Pumpkin" until we do a story.
Anyone special you'd like to thank for helping you through parenthood?
My baby sister HOPE is #1- I call her for anything and everything parenting. She is a mom to 2 girls under 3 in Florida, a doula and badass.
She paved the way fro me to feel comfortable enough to have a home birth with my first! Best experience of my life.
Are you involved in a business venture, a local organization, a creative endeavor, or in the corporate world? Please share!
I'm currently full time stay at home while teaching virtual ballet Privates to kids all over NY/NJ. My insta is
@lydiaholtz
and website is 
www.lydiaholtz.com
– contact me if you have a mover and a groover who wants a lesson or any supplementation to their ballet curriculum!
I also flex my acting chops doing several commercials- for Dropbox, Sony, NYU etc…
My fave job is working with my daughter so I jump on the mommy and me castings right away.
Her first job was with me doing a shoot for postpartum depression which was super cool to bring awareness to, and she was too young to know why mama was crying on set! Lol
How has this community been instrumental in getting you to where you are now?
I love these Meet a Mom/Dad Mondays! What a great way to see who is in your community and all the cool things they are doing. It can be very isolating as a new mom, and tack on Covid?! Well it can be downright lonely. You're creating a way for people to stay connected and have real conversation. I'm here for all of it!