How many children do you have and what are their age(s)?
I have one son, named Lukas and he's three!
How long have you lived in Hudson County? What made you decide to live here?
I have lived in Hudson Country my entire life (29 years to be exact)
What's your favorite family activity Jersey City/Hudson County?
Our favorite thing is to discover new parks. We moved to Jersey City in March and due to the pandemic we weren't able to get to know our town. So as of recent we have made it our family's little tradition to find new parks to have fun in! Riverview-Fisk park is our fav!!
Where's your favorite place to eat and/or shop in your town?
SO many places to choose from haha! If I had to choose one I would def say Orale – wow the Borracho tacos! Now if I had to choose my son's favorite restaurant I would most def have to say Two Boots haha!
What's one thing people would be surprised to know about you?
Something that always shocks people is when I tell them that I have been with my husband since I was 16 🙂 I guess that is kind of crazy haha!
What are you doing to stay sane during Covid for yourself?
Well….. I don't know if there is anything to keep me sane haha but I would have to say thinking about this precious time with my family. Me and my husband both worked in NYC so as you can imagine our schedules were very hectic and we had Lukas in school all day. We hardly spent time as a family now looking back… every time i feel like I'm going to have a meltdown or think that this is "too much" I just think about how fortunate I am to have my healthy family with me all day. OOOh and lots of wine!
Any tips or recommendations for parents to entertain/educate their children during this time?
AMAZON saved us haha! We bought so many wonderful puzzles and that honestly kept my toddler very busy! He enjoyed doing them so much he honestly became so good at them!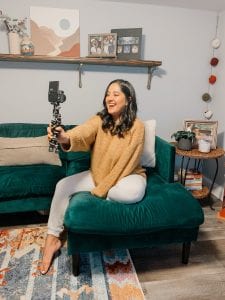 Anyone special you'd like to thank for helping you through parenthood?
MY HUSBAND, wow I'm a lucky woman! He is such a wonderful, dedicated father. He helps in every aspect, as you know sometimes our emotions can take over us but somehow he knows what to say and what to do to make it all better. He is incredible with Lukas, so patient and loving. I couldn't have imagined a better father for my son 🙂 very thankful for all he does!
Are you involved in a business venture, a local organization, a creative endeavor, or in the corporate world? Please share!
I recently started my Youtube channel which I have been wanting to do for so long but because I worked a full-time corporate job as a VP of sales I honestly couldn't find the time but due to the pandemic I decided to pull the trigger and finally start my motherhood channel and so far it has been amazing! I would love the support "Jacqueline Salazar" 🙂 I also started a side hustle and I am now selling Vegan haircare/skincare!
Since I recently moved here, I haven't been able to really experience this community to its full potential so it makes it a hard question to answer however, I have enjoyed living here and seeing all the wonderful things this city has to offer. I can't wait to see how this community will positively impact my life.