How many children do you have and what are their age(s)?
We have 3 children, 12, 10 and 9.
How long have you lived in Jersey City? What made you decide to live here?
We have been here for 11 years now and absolutely love it. It is such an amazing place, very diverse, multicultural. We fell in love with Jersey City right away. For a big city, JC has this incredible community, it just feels like home as soon as you arrive here.
What's your favorite family activity Jersey City?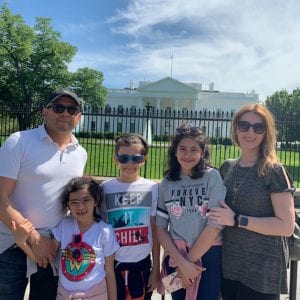 We love our picnics in the parks, going to farmers market together and eating locally (of course I have to talk about food).
Where's your favorite place to eat and/or shop in your town?
Hamilton Inn is always a good idea!
What's one thing people would be surprised to know about you?
I am classically trained piano player
What are you doing to stay sane during Covid for yourself?
Hashtag Ritual. Tea time and reading have been therapeutic. Also ORGANIZING! My fear was what am I going to do when I am done organizing everything. That problem was solved immediately – in a household with three children it is practically impossible to keep everything same for a long time.
Any tips or recommendations for parents to entertain/educate their children during this time?
My first thing is to remind ourselves that what we are doing is enough. That said I know it is hard, these are challenging times to say the least. There are not tons of options but getting our children involved in tasks has helped. We have also put our game boards to use. Writing cards to friends has been not only entertaining but also enlightening.
Anyone special you'd like to thank for helping you through parenthood?
Definitely m
y family, my husband and my mom and my mother in law. And my incredible friends, who I can ask for help (no matter how big or small) and they are always there. That is a true blessing to be surrounded by loving people. I also absolutely have to add that I have met some fascinating moms who have become such big part of our lives through different mom groups (like this one!)
Are you involved in a business venture, a local organization, a creative endeavor, or in the corporate world? Please share!
I am the founder of Bambino Chef, a local cooking studio for children. We provide cooking classes, birthday parties, field trips, camp, etc. And now we are also offering virtual classes.
How has this community been instrumental in getting you to where you are now?
This community has inspired me to start my business right here in Jersey City. The community is tight, we are here for each other not just as businesses but as people. We come together during happy times and we lift each other during difficult ones. Our community has supported us from day one and especially during this pandemic, these people have been here for us. Emails, dm, phone calls, asking how families can help or even offering to share their skills to help us – needless to say I have cried many happy tears during these difficult times because of the love and support we have witnessed.